The Harmonica Used By Bob Dylan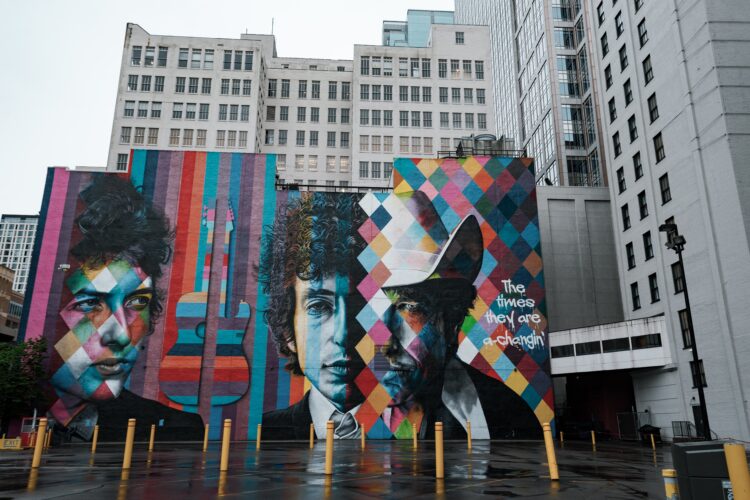 Bob Dylan, whose real name is Robert Allen Zimmerman, is a great music icon who revolutionized the folk and blues genre of American music. His stage name, Bob Dylan, is the title of his first album. A name derived from the protagonist in the popular Gunsmoke television series. Dylan, an American of Jewish descent, was born on May 24, 1941, in Duluth, Minnesota.
While he was young, Dylan quickly developed a penchant for music, listening to the songs of famous rock stars of old like Elvis Presley and Jerry Lee Lewis. He joined several bands while in high school and later dropped out of college in 1960 to fully pursue a career in music.
Notable Career Achievements 
After signing a contract with Columbia Records in 1961, he released his first album. But it wasn't until 1963 that this highly reputed folk-singer gained nationwide popularity. In 1997 Dylan became the first rockstar to receive a Kennedy Center Honors, an award known to be the highest reward for unparalleled artistic excellence in the nation.
Since then, Dylan has received ten Grammy Awards, a Golden Globe award and an Academy Award. He has also received a Noble Prize in Literature for creating novel poetic expressions in the history of American songs. Some of his best songs include Blown in the Wind, Mr. Tambourine Man, and The Times They Are Changin'.
He accomplished a lot in the music world as a very talented individual. This was mostly due to natural talent and dedication to practicing his art, though, you could say a small portion was thanks to his instruments. So, What Kind of Harmonica Does Bob Dylan Use to create such fantastic sound?
Type Of Harmonica
Bob Dylan was well known for using a harmonica to add an extra flourish to most of his songs. In fact, the instrument has become widely associated with Dylan, with many touting him as one of the most influential musicians of all time to have employed the harmonica to produce good, lively music. Dylan's harmonica of choice is the Hohner harmonica.
Why The Bob Dylan Signature Series Is A Class-Apart
His Hohner harmonica is produced by Hohner, one of the leading manufacturers of high-quality musical instruments in the world. Hohner's have remained at the forefront of providing high-quality harmonicas, using the best manufacturing process to produce harmonicas with optimal and superior sound quality.
By also working with professional harmonica players from around the world, Hohner has fine-tuned and perfected the art of producing very high quality, durable and long-lasting harmonicas.
It is little wonder why two major juggernauts in the music world decided to team up and leverage on each other's strong points to bring about a flawless harmonica. In view of harnessing the best minds in musical composition and instrument, Bob Dylan and Hohner teamed up to release a next-generation harmonica—the Bob Dylan Signature series.
Bob Dylan's Signature Series Harmonica is a harp that is available individually in the key of C, but also available in seven other natural keys of A, B, C, D, E, F, and G.
With the Bob Dylan harmonica, Hohner took a giant step further in the innovation. This very series has seen tireless research, and decades of perfection go into it. And as with all limited edition, that represents the flagship of a manufacturer, cutting edge technology has been utilized in the production of the Bob Dylan Signature Series.
The Materials
The reed of the Bob Dylan harmonica is plated in gold in order to achieve a high standard of enhanced sonic versatility. It is equipped to deliver uncharacteristically warm tones that allow the brightness of its player to shine through while playing every chord. This improves the effectiveness of a musician playing the harmonica, which also allows for musical expressiveness. Now the sound quality is bright and enhanced in the key of C, owing to the custom gold plating.
It comes in a black carrying box with Dylan's famous eye and crown logo embossed on top of it. The presentation box is pristine and has an elegant, solid look. At the back of the box is a written text that tells of the collaboration between Hohner and Bob Dylan and the outstanding sonic quality of the harmonica.
The box is also equipped with a magnetic clasp that keeps it in place when shut. Underneath the plastic box cover, there is an exclusive image of Bob Dylan. Although this image does not quite appear to be sharp, as you can see that it is pixilated when you take a closer look at it, on the top of the harmonica casing, you can see the inscription of Bob Dylan's signature.
The edges of the reed plates are smooth and very comfortable when compared to the rough edges of the Marine Bands. A specific profile has been added to each reed with the gaps of the reed adjusted perfectly to produce high-quality sounds
The overall feel and texture of the harmonica itself make it easy to hold while playing. The Bob Dylan Signature Series comb is made from Doussie African hardwood. This gives the comb a fine, polished finish compared to regular harmonica combs made from stained pearwood.
Notable Features Of The Bob Dylan Signature Harmonica 
• His harmonica comes with a total of 20 reeds.
• Key of C
• Specially embossed stainless steel covers
• Finely polished Doussie wood comb
• Every elegant case overlain with an imprint of Bob Dylan's signature
• A Magnetic clasp present in a presentation box
• Bob Dylan signature Eye and crown design is on the box cover
Buy on Amazon
Conclusion
The Bob Dylan Signature series is a must-have for every music-loving enthusiast and Bob Dylan fan. Also, this item has been proven to be a wonderful gift that would be wholly appreciated if you were to present it to a loved one. It is a limited edition and maybe a bit pricey, but it is certainly worth every penny. Considering how influential he was as a song writer and musician, this is a cool piece to have in your collection (1).
Its exquisite make and composition give it its uniqueness and make it stand out from every other harmonica out there, with some comparing its quality to that of a John Lennon harmonica. This is a must-have if you are a Dylan fan or a collector with an eye for great musical instruments.