Learning To Add a Harmonica To Blues Music
Many guitar players, who fall into the blues genre of music, will sometimes add a harmonica into their performance to enhance their soulful sound. Already having experience in music, it can be easy for guitar players to quickly gain experience in playing the harmonica and even play many of the same chords. However, there are a few steps one must take to find the right harmonica, equipment, and learn how to play it simultaneously with your guitar.
Benefits to Adding a Harmonica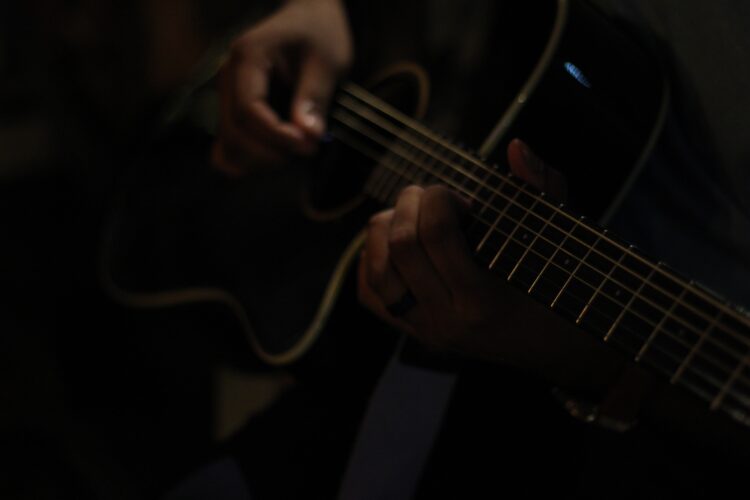 There are many benefits to adding a harmonica to your guitar blues songs, the top reason being it is extremely easy to become good at the harmonica quickly. The harmonica is a very simple instrument and is easy to learn especially if you already have a base of music knowledge. You can check out tutorials on YouTube that provide beginners lessons, or you can hire a music teacher to work with you one on one.
Aside from the harmonica being easy to learn, it is also very inexpensive. A good harmonica for beginners that still provides professional quality will range anywhere from $35 – $90. If you plan to play the guitar and the harmonica at the same time, you will also need a harmonica neck holder. This is typically anywhere for $10 – $20, and the only difference is preference.
Majority of harmonicas on the market are diatonic. This means that if your harmonica is in key C to a song that is in key C, there are no off-note keys because every key you play will be in the same tune as the song. This makes improvising or playing around on the harmonica fun in groups or bands, and adds a new element for musicians.
Choosing the Right Harmonica
Harmonicas come in many types and models to provide a wide array of options for the musician depending on what they need the harmonica for. Therefore, there are many options when it comes to choosing a harmonica, and can be intimidating if you do not know what to look for.
The 10-hole diatonic harmonica is the most common harmonica on the market for Most Genres. This is typically a great harmonica for beginners, but is also widely used by professionals. The diatonic harmonica is also the most common amongst guitar players who are looking to add a harmonica into their music.
The diatonic comes in 12 keys and allows the musician to play a 7-note major scale. It is possible to perform additional notes on these harmonicas, but it does require advanced breathing and bending techniques to achieve. Typically, they are still the best harmonicas if you are a guitar player looking to play a harmonica simultaneously.
Buy on Amazon
Another common option on the market for musicians is the chromatic harmonica. While much more expensive than the diatonic harmonicas, these open up a much wider major scale with its additional feature. Chromatic harmonicas have a small button on the side that allows you to play all half-step notes between major scale notes.
When the button is not pressed, it plays very similarly to that of the diatonic harmonica, allowing you to reach a normal major scale. However, when the button is pressed, it allows you to fill in the gaps that a diatonic harmonica normally would not.
Tremolo harmonicas, although also expensive, offer a very unique sound. Tremolo harmonicas are almost identical to diatonic harmonicas in how they are built. They do, however, have double holes with two reeds in each slot. Each reed to tuned the same, except one reed is tuned slightly higher.
While diatonic harmonicas typically have the standard 10-hole setup, tremolo harmonicas can have up to 12 double holes. This unique construction offers a very different musical experience. Typically, tremolo harmonicas are not used in blues music and is usually only used for special effects. If you play guitar blues, this is not the type of harmonica you would require, unless for a special effect or sound for your song.
Choosing the Right Neck Rack
After you have picked out your harmonica, you will need a neck rack. This is only required if you plan to play the guitar while you play the harmonica simultaneously. There are many options when it comes to neck racks, and it really comes down to preference. However, there are a few things that you can look out for when you are shopping for a neck rack. Typically you will pay anywhere between $10 – $20 for a good neck rack. You want one that will fit the harmonica you have chosen, although most will fit the standard diatonic 10-hole harmonica.
Buy on Amazon
One thing that is important to look for in a neck rack is the sturdiness. You do not want to rack to slip while you are playing your guitar because you will not be able to adjust it in the middle of a song. Find one with a rubberized neck brace and a sturdy frame. Neck racks are all one-size fits all, but they can be adjusted to be smaller or larger if needed.
Starting Out Playing Both Instruments
Finding the correct corresponding guitar chords with your harmonica chords is extremely important if you wish to play both instruments at once. This will take some multi-tasking at first, but once it clicks, you will be able to advance your skill very quickly.
To start out, play the harmonica in first position. This means that you are playing the harmonica in the same key as you will play your guitar. Practice blowing on the harmonica while down strumming on your guitar to get a feel for playing the two instruments at once. You will also start to develop an ear to hear where you need to be on the harmonica, and can continue to practice multi-tasking. While the harmonica is extremely easy to learn, it may take practice to play both instruments at once.
Final Remarks
In conclusion, there are many reasons blues guitar players should consider adding a harmonica into their music routine. If you already fall into the blues music genre, or enjoy playing that type of music, adding a harmonica can add to the feel and direction of your music. Finding the right harmonica for what you need is extremely important.
While diatonic harmonicas are among the most common on the market, chromatic harmonicas, and even tremolo harmonicas can add a certain flare to your music, or even a different musical experience entirely. Finding the proper neck rack is very important if you wish to play both these instruments at once. Make sure you find one that is secure enough that it won't slide around as you play. Practicing playing both instruments to ease multi-tasking, will also help you feel more confident as you continue to play.