Playing the Blues is one of the Major reasons why most people end up buying a harmonica. Though, finding a source for learning isn't always super easy. There are a few things you need to know in order to make playing easier and transferring this information into other keys aside from the Key of C Major, which we will be focusing on here.
The Most reasonable place to start learning to Play the Blues is with 12 Bar Blues. The name of this particular style of Blues comes from is musical structure: it has 12 bars. While this may or may not mean anything to you, the reason why you should start here is because it only has 3 notes as the bare-bone structure.
A Little Music Theory Lesson
For the Key of C Major, that is 1, 4, & 5 on the scale, often identified with Roman Numerals I, IV, V. So how does that translate? These numbers refer to an elementary aspect of music theory. This way, it can be easily applied to a different key, or even easier to a different instrument. It works like this:
I = C
II = D
III = E
IV = F
V = G
VI = A
VII = B
VIII = C
These are all the notes on a harmonica in the key of C Major. Of course, for the 12 Bar Blues you will not be needing anything other than the I, IV, & V.
Great, so you know what the numbers are, now how do you play? The easiest is by referring to Harmonica Tablature, which is among the easiest to read. On these kinds of sheets you will see Numbers and Arrows indicating where to play and how to play.
The numbers are for the holes on your harmonica, and the arrows are up for blow and down for draw.
So when you see this: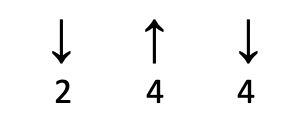 You should draw on 2, blow on 4, and draw on 4. These are the notes for I, IV, & V on any diatonic harmonica.
The Twelve Bar Blues On Harmonica
So to play the Twelve Bar Blues on Harmonica, just follow this Tablature: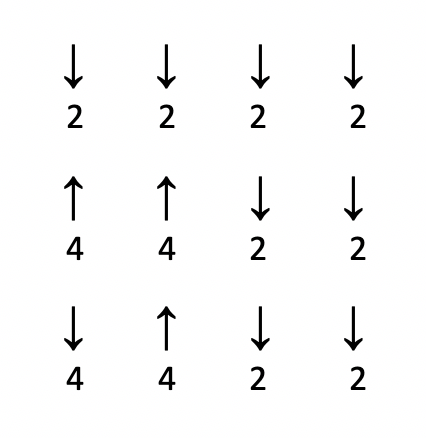 Using this structure, you will be able to play along to any 12 bar blues in the key of C. Should you be interested, you can add fills around these notes as well. My favorite is playing this will a few extra notes in between to slower blues backing tracks to give it a dramatic feel.
Here are some Guitar Backing Tracks in the Key of C Major for you to practice to.
Some of these have a different ending note to the twelve bar blues than what is shown above; instead of a draw on 2, they end on a draw on 4. Keep this in mind and experiment with the sound to find what you enjoy the most.
Right here at the start, we have a nice, slow jam at 60 Beats Per Minute (BPM). These are the kind that are ideal to practice to when you're learning to bend notes or play new techniques. The slow pace gives room for making mistakes and getting back on beat. Faster tracks may cause a little more panic if you get too far off and need to recover.
This one is Twice the speed at 120BPM. Faster tracks like these are intended to provide a different feel than the dramatized slow tracks like the previous one. They allow for a bit more punchy playing and different creative opportunities.
A similar song, almost the exact same tempo. A small change in instruments emphasized. Either is good for practice; it comes down to preference.
Nothing especially overpowering in this backing track. It makes it a nice, smoothed over 12 bar jam track that you can cruise in and play with. The benefit of this is you don't need to compete with other instruments. Additionally, it is a 140BPM track, taking the next step in your harmonica skills.
Final Remarks
Twelve Bar Blues is a great back-pocket pattern to know in the music world, even if it isn't your preferred style. Though, some slower pace grooves are reminiscent of these blues, making it all the more valuable to be familiar with them.
Much of the music world we see and know today was born out of the blues, so returning to a variation of blues music is such a joy. Grab a Harmonica and start jamming to experience it for yourself!