When first starting out on the harmonica, it is natural to look to the legends. It is quite possible as well that these legends are who inspired you to pick up your harmonica in the first place. Either way, looking to the harmonica pros can inspire us, teach us, and mold us.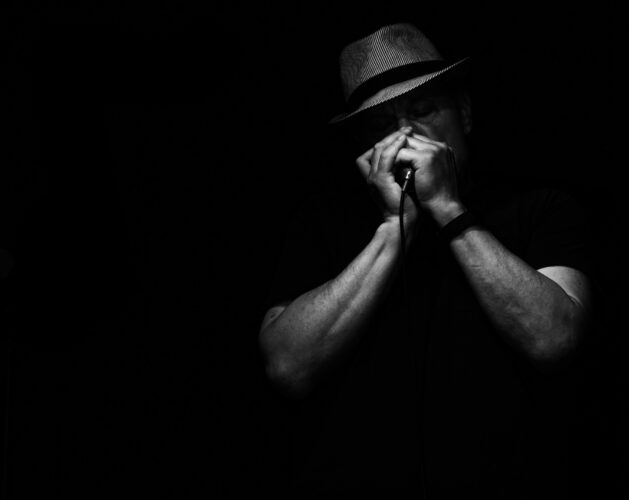 It is important to know who paved the way for the styles of music we have today, and maybe even pick up a signature trick or two from the best. There are many people that helped shaped the Blues scene and perfected the styles of harmonica playing we have today. Many of which actually pioneered new music genres in the 30's into the music we learn and play today. Among some of these great professionals are Magic Dick, Sonny Boy Williamson, and Little Walter.
Well-Known & Professional Harmonica Players
Little Stevie Wonder
A great and well-known musician who, as a great harmonica player, might get overlooked from time to time is Stevie Wonder. This is because he is so incredibly talented! He not only plays harmonica, but he sings as well! Do not even get big fans of Sevie Wonder started on his Piano skills! Additionally, he is a very well-recognized musician. He has more awards than you would believe.
His performances are nothing less than spectacular. It almost doesn't even matter if you know his work or not, but how could you not recognize classics such as "Isn't She Lovely?"
Toots Thielemans
Jean-Baptiste Frédéric Isidore Thielemans, later taking the name "Toots," was a grand harmonicist, as well as guitarist and accordion player. While his featured instrument varied, he was especially well known for his guitar playing and harmonica skills.
Toots was the kind of musician who would pick up new skills and instruments like they were easy to handle. Anything from learning some guitar in minutes to taking a few years to learn Swedish, Toots Thielemans was a lifelong learner and one person who used his skills to wow his fans.
His ear for music and grand ability to reproduce what he heard others playing is what served him best. Any time a musician of influence heard him play, it was a ticket to the next part of his musical career.
Big Mama Thorton
Willie Mae Thornton, better known as Big Mama Thornton, wowed the crowds with her blues and harmonica sound in the 1950's and 60's, characterized by her powerhouse of a voice and personality that she brought to the stage and her personal life. Known first in the South, then gaining popularity nationwide and worldwide, she made her mark with hits like "Hound Dog","Ball and Chain", and a plethora of other sounds to love that shaped the foundations of blues and rock and roll, and paved the path for women and African-American artists alike with her success.
Despite an industry and society that tried to limit her by withholding credit and profit where it was due, Big Mama made a name and a career for herself, being included in the Rock and Roll Hall of Fame, and making it to the Billboard Top 200 record chart. Her legacy forever lives in the hearts of those she directly and indirectly impacted in the music industry and beyond.
Buy on Amazon
Adam Gussow
Adam Gussow
, American Blues harmonica player and modern day legend, has been playing the harmonica for over 40 years now. What makes him such a notable legend is his ability and style in overblowing notes. Very similar to bending, overblowing is a advanced harmonica technique to achieve other notes and chords on the harmonica. Gussow, however, was one of the first on the scene to not only master this, but make it his signature move.
Adam Gussow is best known for his work alongside professional vocalist and blues guitarist Sterling "Mr. Satan" Magee. The unstoppable duo started playing together on the streets of Harlem in the mid 80's, pushing the boundaries of blues music. After playing nearly every day for 5 years, Satan and Adam, their stage name, took to the stage. The two have been playing for over twenty years together, and still occasionally tour or play surprise shows together at festivals.
Through his books, youtube videos, private lessons, and university classes, Gussow continues to make it his life mission to help people understand, appreciate, and respect the culture of blues music, while bringing the harmonica to everyone. He works to inspire and build up a new generation of harmonocists around the world and a new passion for the blues music scene.
Buy on Amazon
Junior Wells
Junior Wells
was an infamous harmonica player, vocalist, and recording artist. Born in Memphis, Tennessee in 1934 as Amos Well Blakemore Jr. – later adopting 'Junior Wells' as his stage name – the ambitious harp player proved to be a prodigy by the age seven. Taught by his cousin Junior Parks, and the great Sonny Boy Williamson II, Wells found not only a great outlet throughout his rebellious teenage years, but a wildly successful career as a musician. In 1948, Wells and his mother moved to the windy city of Chicago. It was there that Junior Wells began connecting with local musicians, artists, and who would soon become his mentors.
In the late 1950's and early 1960's, Junior Wells really hit the peak of his career with his album Hoodoo Man Blues, and famous songs like "Messin' with the Kid", "It Hurts Me Too", and "Come on in This House". He spent his entire life, up until his death in 1998, doing what he loved to do – jamming on the harmonica and pioneering the Chicago blues scene for the rising generation of harmonica players. We owe a great deal of the amplified harp style and classic blues songs to the great and incredible Junior Wells.
Buy on Amazon
Lee Oskar
Born in 1948 in Copenhagen, Denmark,
Lee Oskar
received his first ever harmonica from a close family friend when he was only six years old. From there, he was propelled by passion into an exciting and rich career in music. When he was eighteen, he realized that the only way to make a living playing the harmonica was to move to the United States. So he packed up his life and headed for New York City where he played on the streets to earn his income. Not long after, he found himself in Los Angeles, California where he met and collaborated with other incredible jazz musicians.
Together, they formed the group WAR, and toured around the globe spreading their love for jazz, blues, and overall good vibes. But the journey didn't stop there. After decades of playing, Lee Oskar set out on a new quest to launch his passion even higher. In 1983, Lee Oskar created the Lee Oskar Harmonica Company and manufactured some of the greatest quality harmonicas on the market. Even today, Lee Oskar still tours the world with his old band mates, playing his signature Lee Oskar harmonicas, passionate about bringing peace and music to the world.
John Popper
American blues rock band, Blues Traveler, was first started as a high school garage band in Princeton, New Jersey. The group proved to be a tight-knit band family, and even continued on to New York City together where they attended music programs and began playing local shows and gigs.
Blues Traveler
soon gained traction and the clubs and gigs they received were becoming bigger and bigger. One of their favorite clubs, The Nightingale, was actually based off their hit song "Defense and Desire".
They soon began releasing albums, starting with their first self titled album Blues Traveler, released in 1990, which still contains some of their most famous songs today including "But Anyway" and "Alone". From their, the bands popularity began to snowball and soon they found themselves on the stage of Woodstock '94, opening for large names like the Rolling Stones, and even made guest musical performances on Saturday Night Live and The Late Night Show with David Letterman.
One of their most famous songs they will always be known for is "Run Around" released on their breakthrough album, four, in 1994. At the peak of their career, this song will always be a famous '90's nostalgia aesthetic.
Bob Dylan
Known for his Folk/Blues music style, brilliantly confrontational lyrics, and incredible musical talents,
Robert Zimmerman
, professionally known as Bob Dylan, has been recognized by millions and playing music for fans everywhere for over fifty years now (
1
). Singer-songwriter, author, and American treasure, Dylan got his start in 1961 when he dropped out of college, moved to New York, and released his first two songs. He played for clubs, bars, local café's and anywhere that was willing to let him perform live.
He quickly became discovered after a raving review from The New York Times boasted of the young artist's talents and future in music. He soon signed on with his first record label, Columbia Records and began producing brilliantly crafted songs at an impressive rate. By 2013, Dylan has released around 525 songs, had toured nationally and internationally and became an American icon. He has received Grammy, Academy, and Golden Globe awards along with a Presidential Medal of Freedom and a Nobel Prize for his literature.
His powerful and striking lyrics were a huge part of social and political movements of the era, but still remain just as powerful today. Many say that his lyrics can still be applied to our culture now and still stand as the voice for equality of all humanity. His music has and will continue to make an impact on our generation and the generations after us.
Buy on Amazon
James Cotton
James Cotton
is another well known, singer, songwriter, and harmonica pioneer during the peak of the blues music scene in the 50's and 60's. James Cotton received his first harmonica as a young boy for Christmas one year, and the rest was history.
He grew up modeling his early playing styles after the great Sonny Boy Williamson, and even had the honor of playing alongside the legendary harp player during his teen years. He made his earning playing on the streets and outside of juke joints and clubs he was too young to get into during the time. But his career was not always such a struggle.
In 1967, Cotton started the James Cotton Blues Band, which quickly became widely known. They produced classic blues and R&B songs during their time together, and were even awarded a Grammy for the Best Traditional Blues Album for their albumDeep in the Blues in 1996. Even after the group disbanded, James Cotton spent the remainder of his days ripping the harmonica and mesmerizing his audience with his bright, snappy tones.
He played up until he passed away in 2017 at the age of 81 (2).Among one of the best known American blues harmonica players, James Cotton lived out a rich career as a harmonocist, singer, and songwriter, and will always be widely respected as a staple in the Blues and jazz music history.
Buy on Amazon
Carey Bell Harris
Born in 1936 in Macon, Mississippi,
American blues legend Carey Bell Harris
, was the first solo harmonica player to master the instrument not from listening to the greats, but from mentoring directly under them.
When Bell was younger, he received his first harmonica and slowly began to master it. By eight he was fluent in the instrument, and by thirteen, his godfather Lovie Lee had invited him to play on stage as the harmonocist for his band. He followed his godfather to Chicago, where the Blues scene was alive and roaring. He was introduced to some of the harmonica legends such at Little Walter and Big Walter Horton, and had the privilege of studying the harmonica directly under them. Some of the legends even make a debut on Bell's earlier albums, and vise versa.
During his career, Carey Bell was able to play alongside many great artists and release of handful of solo albums himself. He was even nominated for the Blues Music Award in 1998 for Traditional Males Artist of the Year. His brilliant style of playing helped shaped the culture around the Chicago Blues club scene, and continues to be an integral part of the blues music we have today (3).
Buy on Amazon
Cy Leo
Cy Leo is a world-class, internationally recognized chromatic harmonica player from Hong Kong. Recognized for his artistic, innovative, and wide array of harmonica talent, Cy quickly drew in a large audience and much success (
4
). Soon enough, Cy became Hong Kong's musical treasure and
youngest harmonica soloist
and has been invited to collaborate with well-respected companies, government officials, and many music festivals and competitions.
At the early age of ten, Cy won his first international competition, but that was only the beginning for him. By age nineteen, Cy had been awarded 17 international awards including two Solo World Champion awards from the World Harmonica Festival event in 2009 and again in 2013. Cy continued to tour worldwide, build his fan base, and even play alongside many bands, artist, and music legends.
Sticking close to home, Cy Leo decided to start a harmonica team at local Hong Kong University. There, he directs music students year after year in his quest to make the harmonica 'cool' again. He strives to instill inspiration, creativity, and motivation in his students and others that he teaches. The passion for what he does comes out in his music style and is evident to see in his live performances. While already making quite the wave in harmonica playing, Cy has and will continue to bring recognize and ignite a fire for people to play the harmonica again.
Buy on Amazon
Magic Dick
Dick Salwitz
, also nicknamed "Magic Dick" is one of the most internationally renowned harmonicists, and by far the most successful in modern times. Starting at the early age of nine years old, Dick picked up his first harmonica, propelling him into a lifetime career of making music.
Dick was born in New London, Connecticut and attended Worcester Polytechnic Institute in Worcester, Massachusettes. There, he met two fellow musicians, John "J" Geils, and Danny Klein who shared his love and interest for the music field. Together they formed the J. Geils Band in 1965, and are especially noted for one song in particular, "Whammer Jammer" on their album Full House.
The band was eventually dissolved 20 years later in 1985, but Magic Dick continued to perform, and even still tours today. Magic Dick is especially known for his unique blues harmonica style, being one of the few to truly perform classic blues harmonica to the level he is able to (5). Once the band dissolved, Dick started to work on his own rendition of the harmonica.
He experimented with new sounds and stylings for the harmonica while still holding on to its best characteristics and rich history. The goal was to develop a new style of harmonica to improve overall quality, flexibility, and performance, paving the way for the future of new musicians and artists.
New Partnership
Eventually, Dick partnered up with co-inventor, Pierre Beauregard, and together they continue to tweak and perfect the Magic Harmonica. The Magic harmonica is not yet released, but can be heard featured in Bluestime on Rounder Records.
In 2016, Magic Dick's career took a new turn when he paired up with the award-winning vocalist and guitarist, Shun Ng, and together they debuted their new album, "About Time". The acoustic duo proved to be an unstoppable force and still perform today.
With two professional musicians at the top of their respected instruments, the results of their intimate, soulful, Blues acoustic is astonishing. Of all the harmonicists that have pioneered the harmonica, Magic Dick has and continues to do so, constantly bending the rules and creating a new future for the harmonica. He is sure to be a musician to look up to.
Buy on Amazon
Sonny Boy Williamson
Sonny Boy Williamson
was an incredible harmonicist and a true blues legend, paving the way for the blues music scene (
6
).  During his long and rich music career, he had the privilage to play alongside musical legends such as  
Robert Johnson
,
Eric Clapton
, and 
Jimmy Page
.  While there is much mystery about the early life of the famous harmonica player, what we do know was that during his music career, he was able to write, sing, and produce some of the greatest blues work of all time.
His career took him all over the place including musical performances all around the country, European tours, and even running a successful radio show for almost 2 decades. His lyrics were full of powerful, witty language often about himself. Although many look up to this incredible legend in blues music, no one can come close to the unique style and sound that Williamson brought to the table.
Williamson was an early influential harmonica player, reaching the height of his recording career in the 1950's and 60's. During that time he recorded some of the most noted blues songs such as "Help Me", "Don't Start Me Talkin'" and "Bring It Home". In fact, his hit song "Help Me", soon became well respected in the blues community for it's rich sound and soulful blues harmonies. It quickly reached the gold standard of blues music, and many musicians have covered their own renditions of the famous song. Sonny Boy Williamson will go down through history as the pioneer, influencer, and ultimate standard of blues harmonica playing.
Buy on Amazon
Little Walter
Along with legendary Sonny Boy Williamson,
Little Walter
was also on the frontlines of the harmonica music scene. Little Walter is one of the most revolutionary and well-known blues and jazz harmonicists of all time (
7
). While many musicians attempt to replicate his famous style of harmonica playing, very few successful do so.
His ingenious approach to the harmonica and blues playing was so revolutionary it will echo through generations of harmonica musicians. In 2008 he was inducted into the Rock and Roll Hall of Fame, making him the first and only harmonica player to be inducted.
In 1947, Little Walter released some of his first recordings, producing many revolutionary hits the succeeded people's expectations of what was possible for the harmonica. His career took him not only through the United States, but also through Europe as he gained popularity, a well-deserved audience, and a name that would last through history.
Little Walter, however, does owe a great debt of gratitude to harmonica pioneer, Sonny Boy Williamson, who paved the way for artists like Little Walter to become successful. With his unique style that was carried on, we have developed a style of blues harmonicas that is sought after and attempted by many harmonicists.
Buy on Amazon
Final Remarks
Many of these legends still live on today. The music they were brave enough to explore and create has made the way possible for so many other incredible artists throughout history. While the harmonica is a small, compact little instrument, it continues to be one of the most diverse instruments only mastered by few. Different shapes and forms of the Harmonica have been released over the years, giving Musicians that much more potential for creativity.
Looking to the legends helps us not only understand the intricate background of the harmonica, but also how we can keep the history and culture of this instrument alive and respected in our own music.